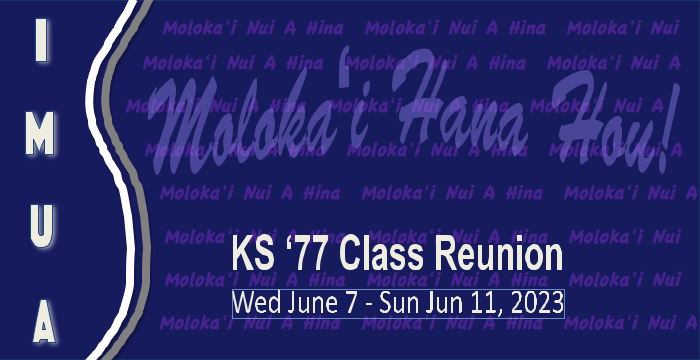 Aloha Classmates,
Anyone interested can reach out to Pudge at patcalles@yahoo.com
If you to join the group "Moloka'i Nui A Hina/Moloka'i Hana Hou!" in the TeamReach app. 
INSTRUCTIONS
Install:  TeamReach app (https://www.teamreach.com)
Enter code: 060823
UPDATE
2023 – MOLOKA'I ACTIVITIES Kamehameha Schools Class of 1977!
We want to share activities that the committee has planned while on Moloka'i. It will be packed with fun-filled, diverse events. A beautifully designed shirt to celebrate the event has been created (Shirt designs and cost will be posted on TeamReach in a few weeks). It will add to the unison and comradery of our weekend together.
Each classmate must plan flights, time of arrival and departure from Moloka'i, accommodations while on Moloka'i, transfer from the airport to the meeting place and back. The reason that we are requesting your arrival and departure is to ensure that we account for all of you that RSVP. The safe arrival and departure of each of us is tantamount to the joy of being together.
So that you can just come to enjoy the weekend, we have planned the meals. We need each classmate to remit funds to pay for meals for Thursday, Friday, Saturday, and Sunday. Get a discounted rate of $175 by RSVP'ing no later than Mar 30, because we are committed to ordering tables/chairs and inform the caterers of the numbers to get supplies to Moloka'I timely. We still want you to join us, if you RSVP between April 1- May 1st, it will cost $200 since we will have to change the order. The meals are inclusive of a continental breakfast, lunch, dinner, and the luau on Saturday evening. We will eat whatever leftovers there are on Sunday morning after our memoriam, while we are cleaning up our meeting place and saying Aloha.
Dean Chow has graciously opened his property at Puko'o to those classmates that may want to pitch a tent, cot, sleeping bag, lounge chair, etc., for the duration. There will be available bathroom facilities.
Everyday an activity has been planned. There is no pressure for you to join in the planned activity, so if you prefer to take in site seeing on your own, or to laze at Puko'o, or relax along the shoreline, please feel free to do so. We ask that you check the box for the activities that you want to participate so that we will know if the lunch remains at Puko'o or will be packed to be taken along on the planned activity.
Lastly, we scheduled an extra event and need to know if there is interest in seeing the Na Pali Coast. We can schedule a two-hour boat ride at an extra cost of $80. The cost of the ride must be paid when you remit funds for the meals. Based upon the interest, it will determine how many reservations are needed to accommodate the number of interested classmates.
The committee is so excited to spend the long weekend together with our classmates, we hope that you will want to join us at the 2023 "Moloka'i Nui A Hina".